Hazardous substances
The status of hazardous substances shows some signs of improvement during the assessment period, however it is still clearly not good (Figure 4.7). The integrated contamination status of the Baltic Sea remained above acceptable minimum levels during 2016-2021. The contamination status was assessed as either bad or poor in roughly 80% of the 57 assessed spatial units, including the majority of the open sea sub-basins. Only one assessment unit in the open sea had good status. The results partly reflect the prevailing monitoring regimes, because units achieving better status tend to be represented by fewer parameters being evaluated or key drivers of the overall status being absent.
Furthermore, only a small fraction of all potentially hazardous substances is measured and included in the indicator evaluations that make up the integrated assessment.
There are some encouraging signs, however. Six open sea sub-basins have improved their status category since the previous assessment (HELCOM 2018), although they are still not in good status. Furthermore, at the level of individual monitoring stations, there are more substances with downward concentration trends than upward trends.
The assessment results are mostly driven by elevated concentrations of polybrominated diphenyl ethers (PBDEs) in biota, tributyltin (TBT) in sediments, mercury in biota, and copper in sediments. Cadmium concentrations in biota and sediments also contribute, as do lead concentrations in biota.
What are hazardous substances?
Hazardous substances are synthetic or natural substances that enter the Baltic Sea at elevated concentrations because of human activities and can cause various types of damage to species and habitats in the ecosystem. Hazardous substances range from those that are highly visible in the form of oil-spills to others that can remain unnoticed until signs of detrimental impacts on the ecosystem or organisms become apparent. Many contaminants degrade slowly, and their impacts can magnify as they accumulate within aquatic food webs. Because hazardous substances are difficult or impossible to remove once they are in the system, the key measure is to limit the risk of their entry into the environment.
The Baltic Sea Action Plan has the following ecological objectives for hazardous substances:
Marine life is healthy
Concentrations of hazardous substances are close to natural levels
All sea food is safe to eat
Minimal risk to humans and the environment from radioactivity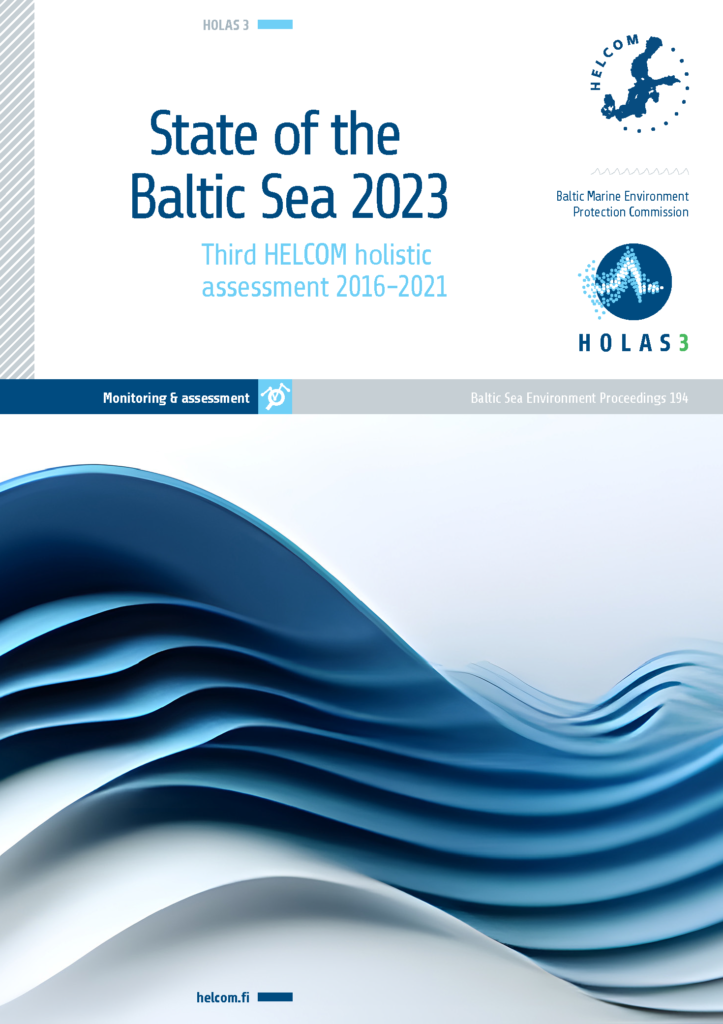 State of the Baltic Sea 2023 — The third HELCOM holistic assessment (HOLAS 3)
State of the Baltic Sea 2023 is a synthesis report that builds on, and integrates, results from a wide range of assessment products produced within the third HELCOM holistic assessment. Its role is to link information from the underpinning assessment products together, thus highlighting the holistic aspects. With this in mind, the summary report focuses on presenting the results and on an in-depth look at why we are seeing these results, providing over-arching context and analysis. The report helps develop a clearer picture of where we are and how things are connected, supporting coordinated and effective measures to strengthen the Baltic Sea environment.