Data and methods underlying the assessment
The holistic assessments are based on extensive data collected in a comparable manner throughout the Baltic Sea region to create the most accurate and comprehensive overview of the state of the Baltic Sea.
Maintaining regionally agreed monitoring programmes is a well-established function of HELCOM. Countries around the Baltic Sea carry out the monitoring in line with commonly agreed procedures and collate the data in centralized, open databases (HELCOM 2013a). Monitoring of the physical, chemical and biological variables of the Baltic Sea open sea area started as early as 1979, and monitoring of the input of nutrients and hazardous substances began in 1998.
The monitoring programmes are developed continuously. There are now 40 jointly agreed HELCOM monitoring programmes being implemented by the countries around the Baltic Sea. These programmes cover the sources and inputs of human pressures and various variables that reflect the state of the environment. The monitoring data are used in various assessments to evaluate the state of the marine environment and to reveal long-term trends.
Despite recent developments to improve the assessment, several data gaps are still evident and need to be filled in future work. In some cases, data gaps exists because monitoring to support the assessed indicators does not cover the full extent of the Baltic Sea region or there is insufficient sampling density. For some elements, regionally coordinated monitoring is still under development or is missing. More details for specific indicators and elements are given in the reports summarized in this report (HELCOM 2023a-e) and the indicator reports.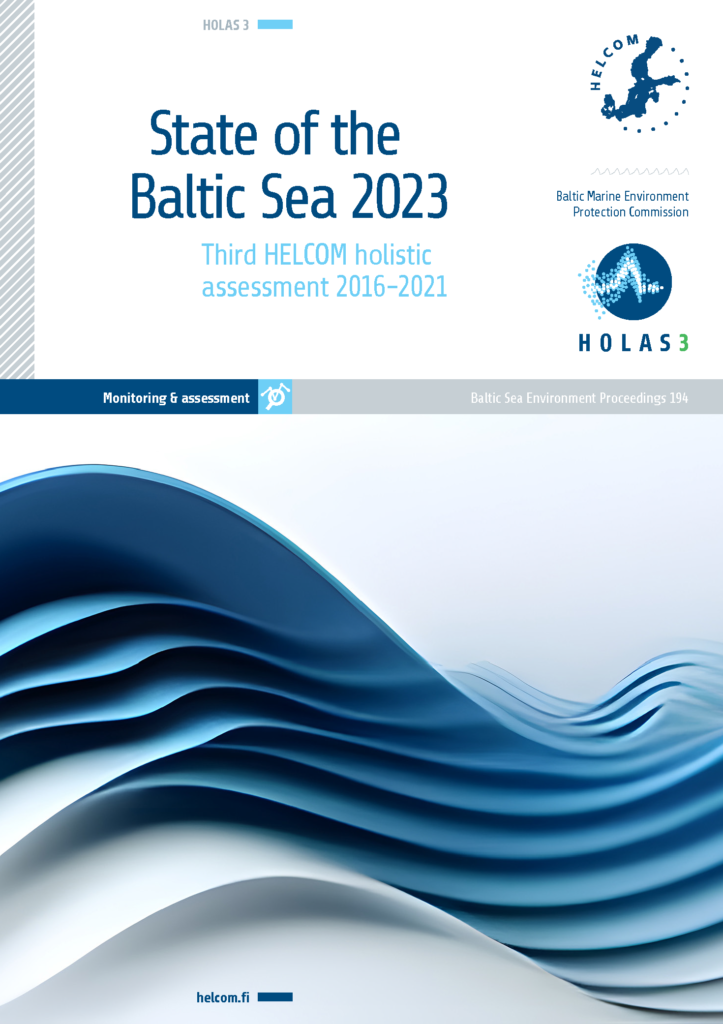 State of the Baltic Sea 2023 — The third HELCOM holistic assessment (HOLAS 3)
State of the Baltic Sea 2023 is a synthesis report that builds on, and integrates, results from a wide range of assessment products produced within the third HELCOM holistic assessment. Its role is to link information from the underpinning assessment products together, thus highlighting the holistic aspects. With this in mind, the summary report focuses on presenting the results and on an in-depth look at why we are seeing these results, providing over-arching context and analysis. The report helps develop a clearer picture of where we are and how things are connected, supporting coordinated and effective measures to strengthen the Baltic Sea environment.